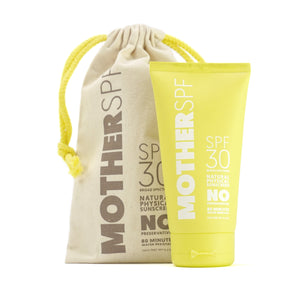 Begin every morning with the world's #1 anti-ageing product - SPF
MOTHER SPF30 is a hydrating, everyday physical sunscreen using only 9 sustainably sourced and certified organic ingredients.
Our star active ingredient (Non Nano Zinc Oxide) provides superior Broad Spectrum protection against UVB and UVA rays. Zinc Oxide is also an anti-inflammatory powerhouse and nutrient rich mineral that is Reef Friendly and 100% photostable (AKA never breaks down in the presence of sunlight). Keeping you protected and safe from the harsh UV rays, 24/7.
Formulated with certified organic botanicals, skin loving ingredients including high strength antioxidants to prevent free radical damage - giving you a strong SPF and so much more. MOTHER will leave your skin feeling nourished and enroute to glow-town!