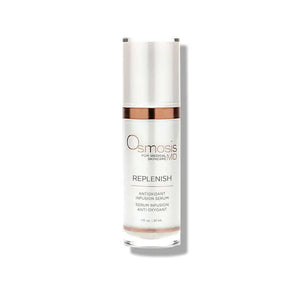 Osmosis Antioxidant Serum is a botanical powerhouse.  It works to fight free radicals, holistically promotes collagen production, and reduces inflammation. Resulting in stronger, healthier skin.
Osmosis Replenish is the most advanced antioxidant serum. Because of its unique, pharmaceutical-grade delivery system that delivers 17 antioxidants deep below your skin's surface to prevent the ravages of aging.
Antioxidant Infusion Serum also smooths your complexion. Whether you're prone to blemishes, have texture due to aging, acne or have sensitive skin this natural antioxidant face serum works to replenish your skin. Promoting a healthy, glowing complexion.