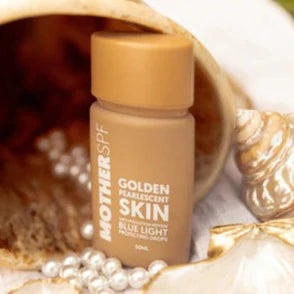 Add Prior To or After Your SPF:
Whilst we know mineral sunscreens can truly never be invisible. We do know you can still wear a mineral SPF and look like a bronzed goddess because MOTHER SPF created just the product to do so. The product is pigmented enough that when you mix with your moisturiser and apply SPF on top after, the bronzed glow still shines through and mitigates any white cast. 
Mix with your Moisturiser/Serum:
This is a great alternative to foundation for an all over healthy, dewy look. Much better for your skin and doesn't stain your clothes like foundation does!
A Single Foundation for All Seasons:
Adding a few drops to an existing foundation makes one shade work year-round without the need to invest in yet another product. We like to look after your wallet and your skin!
Bronzer or Highlighter:
Great if you feel your powder bronzer is making your skin look dull or want to highlight your cheekbones.
Body Highlighter:
 The founder likes to mix this with her body oil and apply all over her body when she has a special event to go to!